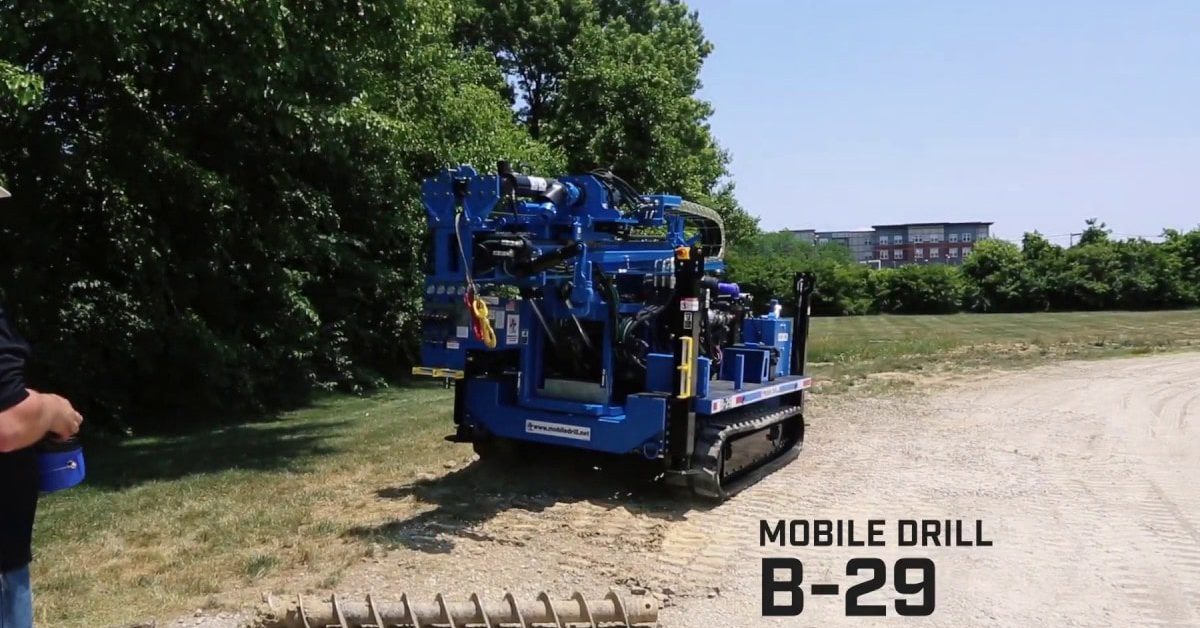 Once a month, Alucast will sit down with an industry leading driller or distributor to talk about the drilling industry including emerging trends, new technologies, and problems facing the industry as a whole. 
For the first Industry Spotlight, we sat down with Larry Orzeske of Mobile Drill International. Based out of Indiana in the United States, Mobile Drill provides rentals including newly designed drills, expanded inventory on parts and tooling, and new ways of doing business. This includes rental drills and floor inventory of new and refurbished drills to fit all budgets. 

Alucast: Thanks for joining us today Larry! Let's start off by talking about the huge cry in the industry for helpers on job sites. There seems to be a massive shortage of capable hands, why do you think the industry is facing this right now?
Larry: It's true, there seems to be a shortage of helpers, drillers, etc, and I don't think it's as simple as "pay more money, and there will be more helpers' ' it's definitely more complex than that.
But one way companies can improve is by getting people involved with the rest of the company. When entry level workers are hired, they can be put in a bit of a box in the beginning, and might not see a way to climb up the ladder. Some of that's the responsibility of the employer, finding more ways for young employees to grow.
Another good way to help with that is recurring meetings where the sole topic isn't just safety. Talk about the market, what the future looks like, and try to involve some of these lower level employees in some of the decisions being made. 
You also need to invest in people, promote from within and show workers the possible career paths in front of them.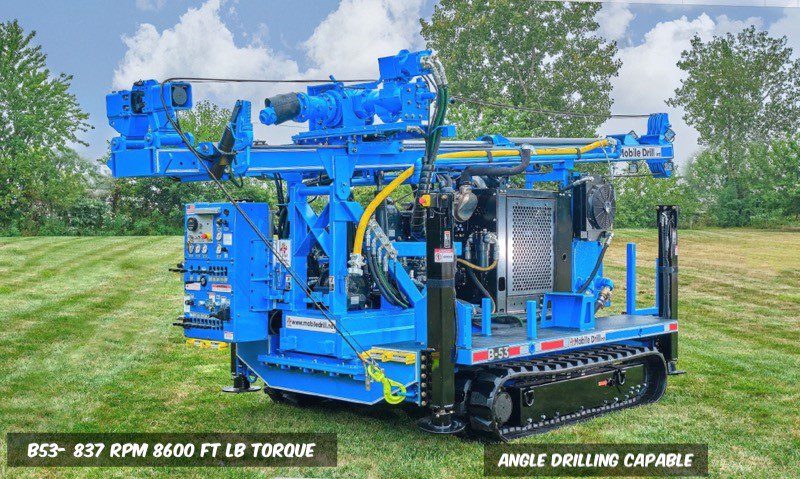 Alucast: Are you seeing any new trends in the American drilling market? 
Larry: We're definitely seeing a shift in some of the tooling major companies are taking, as an example augers are just flying off the shelf right now.  At Mobile Drilling we're almost back to pre-COVID levels of business, which is obviously great to see. We're fully staffed up again, which is great being able to put more Americans to work. 
We're also moving a ton of 20 and 30 ft flights, Augers, and other one time works, which would indicate the industry is picking up as a hole. Obviously that's good for business but we love to see the industry picking back up as a whole.
Alucast: Absolutely. We've noticed that Mobile Drill pays alot of attention to engaging with its users through social media such as Facebook, instagram, youtube. Why do you place such a large emphasis on these platforms?
Larry: Absolutely – Our social media presence is great. There's a lot of noise on social media, so we try to make content that is actually useful for drillers. When people follow our socials, they're gonna get informed about our products, new drilling technologies, specials we might be running, etc. If somebody needs one of these, and then see that special, they can save a couple bucks on a new rig.
We're also trying to constantly alert people about new stuff coming in the future. We started putting stock rings in our manufacturing pipelines, so that people can get things quickly. We usually have a 57, or a 53, or a 29, that's somewhere within a month of availability. So anything coming back from rentals, we try to announce, etc. It's all about making social content that is useful, and that's why I think we get solid engagement. We even take Auger orders on Facebook sometimes!
Alucast: What kind of drills do you have on the line right now?
Larry: I'm gonna have a 57 coming back on rental within the next couple of weeks, I'll have a brand new 57 coming off the line around Halloween, a 53 track mount, and we've got several different machines available soon as well. 
This is just part of the advantage of the rental program. We require a bit of time up front, but after a company has had it for awhile, they often keep extending month by month. Of course they're allowed to turn it back in with proper notice, but it can always be a great way to try out some new equipment.
Alucast: As you know, you guys send a lot of rigs up to Canada. As the temperatures start to drop, what is some advice you might have for those of us that work in the cold? Are the rigs winterized?
Larry: A couple different things – every year we post tips for winterizing your drill rig on our social media (@mobiledrillintl on Instagram, Mobile Drill Intl on Linkedin).  Every rig is going to differ a little (gears, actions, hydraulic setup) but it's a basic thing we like to help with.
But the one thing I want to emphasize about drilling in the winter, to make everyone's life easier, is to keep everything CLEAN. It's really important to keep cleaning things off and keeping your equipment in great shape. At that point you're ahead of the game in terms of corrosion and other chemicals eating through.
Number two – get all the water out of there. Water tanks, water pumps, water lines,  make sure you're using antifreeze or RV antifireeze (which is environmentally friendly, or windshield washer fluid). All these things are pretty cheap, and will coat the inside of those different services, which can prevent things from freezing and locking up. 
But any new rig we make going into a cold environment, we actually match up the fluids to that environment, which is another way we make things easier for our customers. You'll see the 15W45 on the hydraulic oil, as an example. The lower the number, the thicker it will be in a colder temperature. AW32, which is common in Canada, is something we'd equip for a rig going to Canada.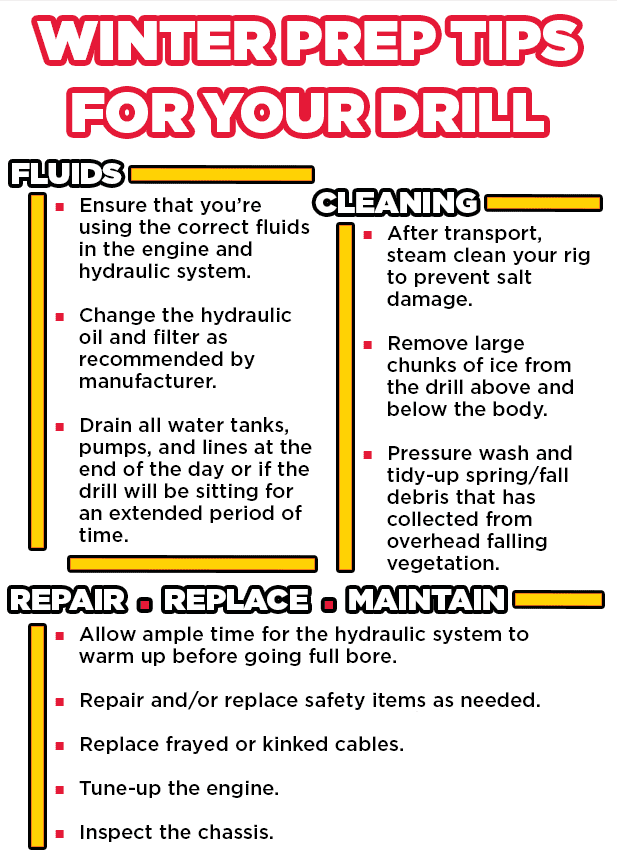 Alucast: Last question – if you we're to start a company, what's the one drill you want to start off with?
Larry: Probably one of our X series drills, a 37X, is in my very biased opinion, the most versatile, compact drill rig available to the environmental geotechnical drill market. The 8000 foot lb, 1000RPMs, 13 foot of stroke. You can run odex, you can run Augers, you can diamond cork drill, you can road rig, the list goes on. 
At the end of the day, this is the reliable, safe drill you need to start working for your clients. It also has a standard package of options you can easily add to for your specific drilling operation. The 37X is definitely the way to get started! 
A huge thank you again to Larry Orzeske of Mobile Drill International for taking the time to speak with us. Larry is one of the industry's good guys and a future industry influencer.
To learn more about Mobile Drill, check out some of their website and social media platforms