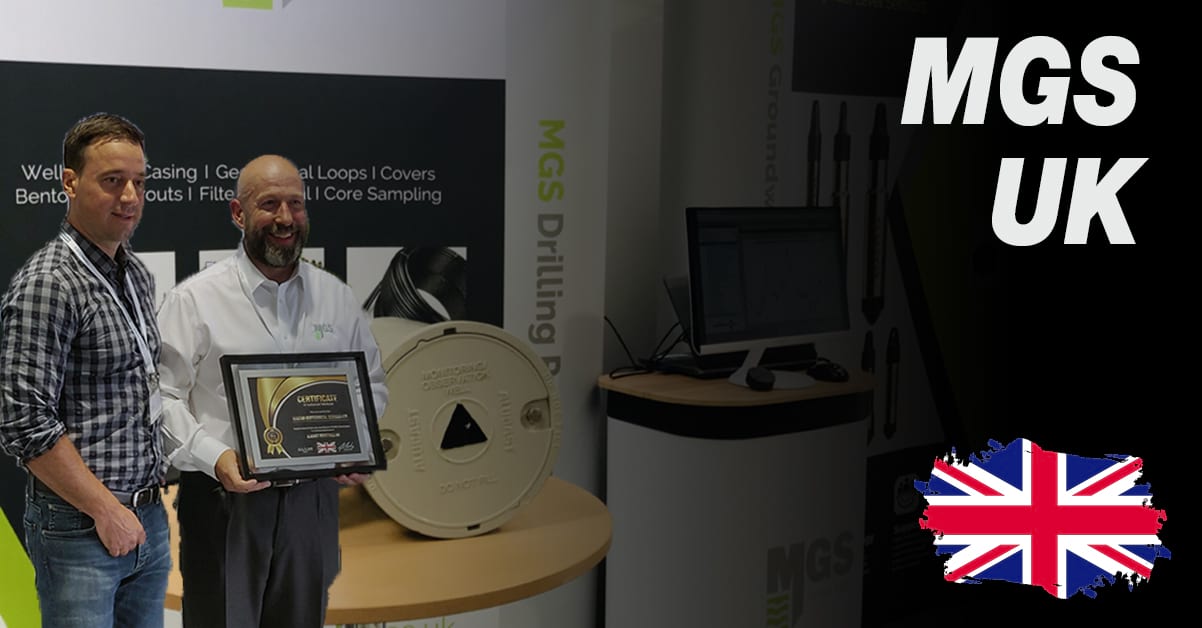 Industry Spotlight – Darren Portway of MGS
Once a month, Alucast will sit down with an industry leading driller or distributor to talk about the drilling industry including emerging trends, new technologies, and problems facing the industry as a whole. 
For our November Industry Spotlight, we talked to Darren Portway, Drilling Division Manager at Marton Geotechnical Services (MGS) in England. MGS is one of the countries largest distributors for everything drilling and site investigation, as well as ground source heat and rail industries. 
How has the pandemic affected the drilling industry in the UK?
As with most industries there was a major slowdown at the start of April and the first lockdown in the UK. This seemed to last around 5-6 weeks but with the Drilling Industry being the way it is, once companies had figured out how to work with the new social distancing rules it has been incredibly busy since. The outlook seems very positive going into 2021 as well.
Although Covid has made 2020 a challenging year in a number of ways for us all, I think we are very fortunate to be involved in one of the few industries that seems to have remained buoyant despite the pandemic.
What has been some of MGS's bestselling products this year?
Obviously the Alucast Covers! They have been a big hit since we started stocking these last year, so much so that they have replaced our existing flush 'Pemco' style covers. We couldn't be happier with the product. The fact that they are lightweight yet incredibly heavy duty, do not rust so are incredibly long lasting, are water resistant as well as being manufactured to a very high standard makes them the best cover we supply. The feedback we have from our customers has been equally positive, they have been a big hit.
We have also had some major sales with our range of DC manifold chambers due to the increase in Geothermal Installations in the UK this year. These have become very popular. We produce the chambers in house so have control over the manufacturing. All are pressure tested and are available with a variety of options including isolation on the main header line or balancing valves with various flow rates.
I should also mention the Rhinocorebox which again has been a big seller. This is a 2 Channel by one meter corebox but with a unique design which makes it easily stackable, either empty or when full which of course reduces transport costs. It is made from recyclable polypropylene making it very lightweight and long lasting. The box itself is also fully recyclable making it a very green option and can also be customised in various colours and with different coloured clips.
Based off some of MGS's recent sales and trends, do you see any emerging trends in the drilling industry? (example, selling a lot of geothermal products, indicating more demand for it in the future, etc.)
There is certainly an increase in demand for Geothermal products, including loops, chambers and everything for the out of building install.  I think it's clear to see that the renewable industry is going to be a growing sector over the coming years as Ground Source Heat Pump technology becomes more mainstream and accepted as and viable heating and cooling option. Climate change is very high on everyone's agenda and the demand for our Geothermal products has reflected this.
As well this the demand for our standard range of Site Investigation & Waterwell install materials has been incredibly high in part due to the some of the large construction projects that are on-going in the UK.
What separates MGS from other distributors?
I think MGS is quite unique due to the range of industries and products we supply.
We supply installation materials into the Site Investigation, Waterwell, Geothermal, Rail and Landfill Industries. We also supply a wide range of drilling tooling for all of these sectors as well as being the UK Distributor for Pagani & Tecop Rigs and the UK Distributor for the Eijkelkamp Diver range. We aim to be the 'one stop shop' for our customers .
As well as supply we have our own manufacturing facilities enabling us to slot, thread and perforate HDPE or PVC pipes, we produce our own geothermal loops and also have our own plastic fabrication department. Combining this with excellent customer service, stock holding and delivery options over our three sites based in Rougham (Suffolk) Coventry (the Midlands) and Cramlington (in the North East) I believe enables us to offer the best possible supply and service throughout the UK and separates us from our competitors.

MGS will be the first European suppliers to carry Alucast's 4x4x4 Monument Casing Products. How do you think British and other European drilling companies will like the new Alucast Upright Covers?
I think these are going to be a big hit and we are really looking forward to having them on as one of our products.
As with the circular flush covers the upright covers are really well manufactured with a hinged lid and because they are aluminum are rust free and importantly very lightweight when compared with existing upright covers.
I think that some of our customers will also be excited to learn that they can customize the covers with logos & their company name imprinted onto the cover. The covers also have a handy tamper proof shroud to protect any padlock used. We are going to have the covers in 4" & 6" diameters and in 0.6m and 1.0m lengths.
If the circular covers are anything to go by the upright covers will be really popular. We will have these stocked by the end of the year and look forward to showing these to our customers.
Fish & Chips or a Proper English fry up?
Well they are two different meals, one is dinner & the other is breakfast so can I say both?
(I guess we're really showing our Canadian here)
How does the British drilling industry compare to the rest of Europe?
I think there are a lot of similarities amongst drilling Industries. You notice that when Drillers get together at any shows or Expo's from any part of Europe it's not long before they are talking all things drilling with a clear understanding or each other despite any language barriers.
The only thing that seems to differ greatly is the Geology they are drilling in!
What I can say about the UK Industry is that it is a really fast paced, hard-working and incredibly resilient Industry which has been proven more than ever during this year.
It is demanding at times but I know our customers are very adaptable and forward thinking and we try to mirror that at MGS.
Do you see Ipswich Town continuing their strong season and reaching promotion to the championship next year?
Very simply put, no I do not!  I have spent far too many years watching them to get my hopes up.
A big thanks to Darren of MGS for taking the time to talk shop with us! 
Alucast Covers on the MGS Website
You can also learn more about MGS by checking out their website or following them on facebook.