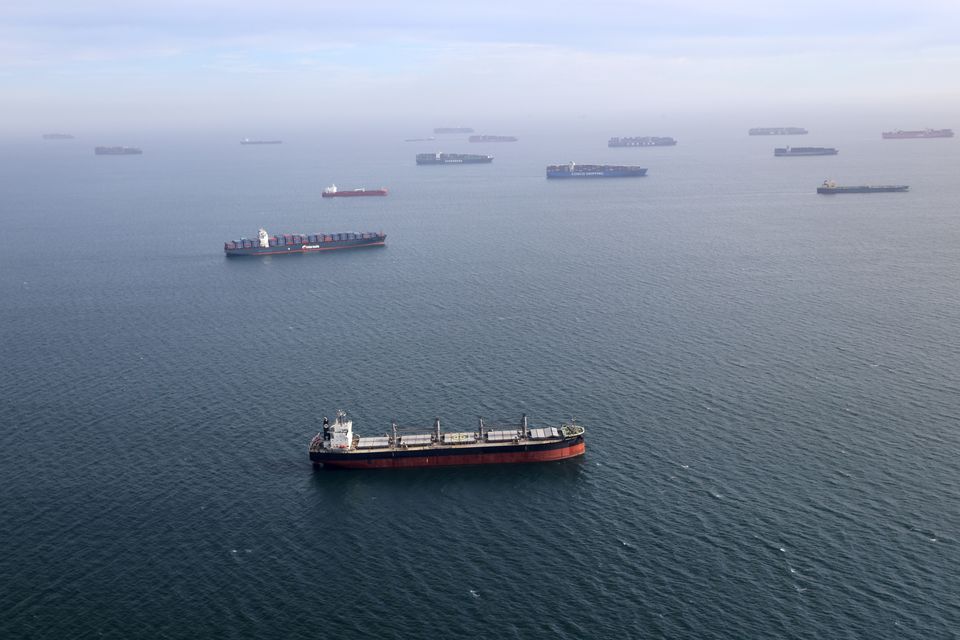 We're starting to hear more and more everyday about the logistical and supply chain issues being encountered across the world. A couple points breaking into the mainstream media lately include:
Residents and people flying into LAX seeing large numbers of container ships anchored and floating off the coast of Los Angeles

A reported massive shortage of children's toys approaching for Christmas

Large increases in the price of new and used cars

Increased shipping costs and longer wait times 
It doesn't stop there either – as the lineups at global ports continue and supply chains continue to stretch, more and more industries are likely to be impacted. 
The pandemic has undoubtedly played a massive role in the crisis. Logistics had already reached a point where the existing software data and tools to where really strained, and the additional issues that came with COVID has brought the issue to the attention of the world. 
The drilling industry, in general, was fairly lucky to avoid massive slowdowns due to COVID-19. In Canada, the government deemed all water-related construction industries excluded from lockdowns, and therefore Canadian geotechnical drilling companies stayed open (Alucast included.)
However – it's becoming obvious that our industry won't be immune to the logistical issues currently facing the world. 
What is Causing the Global Supply Chain Crisis?
In an open letter Wednesday to heads of state attending the United Nations General Assembly, the International Chamber of Shipping (ICS) and other industry groups warned of a "global transport system collapse."
A supply chain is only as strong as its weakest link, and a drastic increase in e-commerce, the global pandemic, existing tariffs and other factors have lead to these supply chains becoming extremely stretched and vulnerable. 
The massive pile up at the Los Angeles port is just an example of this.
The current wait time for a ship to gain entry into one of the ports can be over eight days. Port officials say they've never seen things so bad. 

 As of September 15, a record 88 ships were sitting on the horizon, forming a line of vessels stretching south over 40 miles

The congestion has also contributed to a

global shortage

of shipping containers, causing ocean freight costs to spiral upwards. 
As it begins to directly affect consumers (suddenly they can't afford a new car, longer wait times on Amazon, can't find the toys their kids want for Christmas, it suddenly becomes an issue talked about on the news and apparent to the world.
How is this Affecting the Geotechnical Drilling Industry?
As mentioned earlier, the drilling industry has handled the global pandemic relatively well compared to other industries. 
It doesn't look like it will get off scot-free however, as we're already starting to see some problems accumulate:
Many drilling jobs have been cancelled due to their supplier being unable to get stock such as PVC pipe and silica sand. Both products have never been hard to acquire, and are suddenly starting to hold up multi-million dollar projects. (remember, a supply chain is only as strong as its weakest link)

Drillers are now also needing to be creative using older, beat up rods and other types of equipment, which is making jobs less efficient and more unsafe. 

Companies are unable to expand their business because of the lack of drills being manufactured.(due to rig part shortages) Less used drills on the market driving up the cost for used equipment. 

Global shipping costs has increased dramatically, causing distributors and manufacturers to have to increase their prices or be forced to swallow massive increases in expenses, leading to everyday products in the industry becoming more and more expensive.

As you can see it's a fairly vicious cycle that affects everybody in the industry, from top executives to everyday helpers. 
Here are some of the products currently that are more expensive or impossible to acquire:
Drilling rigs

PVC Pipe

Drill Rods

Direct Push tooling

What are People in the Industry Saying About It?
Travis Robinson

Hole Products

– we've seen 3 week delays to 4 month delays for some of our drilling related products. We stocked up our inventory at the beginning of the pandemic, just never guessed we would be in this position 2 years later.

Manuel Landry

Plas-Tech Plus

– we saw pvc pricing not only skyrocket but have seen some 4-5 month delays on certain sizes. Right now we don't know how long this will last and the supply chain is continuing to break down. We can just do our best and stay 3-4 months ahead on our inventories.
The pandemic has taught the manufacturer, supplier, drilling companies and drillers that without key products our industry will come to stand still and no longer evolve.
To respond to these challenges, we must, at a minimum, take the following steps:
engage in meaningful strategic planning, not just budgeting

increase our financial, managerial and technological strengths

add value to our products and integrate more closely with our clients

integrate our own supply chain to reduce the costs and improve performance
The responses will not, by themselves, ensure your competitiveness, but they are essential for the success of our manufacturers, suppliers and drilling companies in today's modern integrated supply chains.
Thanks for reading – follow us on social below: